The start of the 2001 Shea's 5k Run For The Arts



300 meters into the race, Paul Drexler moves into the early lead. At the far right, Jeff Scull keeps his eye on Drexler.


With less than 1-mile to go, Paul Drexler maintains the lead but Jeff Scull is close behind.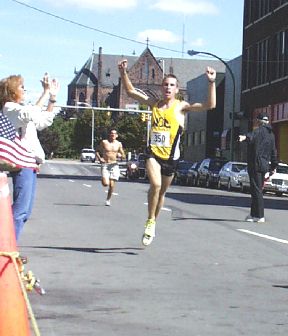 Jeff Scull raises his arms in victory as he sprints through the finish line. Paul Drexler fought valiantly, but must settle for 2nd place today. The race leaders are timed in 16:11 and 16:14 respectively.


Stuart Galloway takes third overall in a time of 16:27. He is the 1st masters athlete to finish and 1st in his age group.

The 1st woman overall is Monica Grabowiecka in a time of 19:03.



Colin Meyers finishes 4th overall in 16:48.




Heather Gilbert wins her age group and is 2nd woman overall with an excellent clocking of 19:13.

Brian Bowden takes 6th place overallin a time of 17:08.
John Beishline offers encouragement with the bullhorn.

Philip Lee and Patrick Hamper speed through the finish line in 17:56 and 17:57.
Partially hidden is Larry Krajewski, winning his age group, in 17:58.

Brian Whelan finishing in 17:36.



Frank McKeehan finishing in 19:53.



Dennis Sears winning the 55-59 age group in an outstanding time of 20:03.

Mark Kucharski finishing in 20:15.




Michael Smith finishing in 20:35.




Linda Guglielmi captures 2nd place in her age group with her 22:12 clocking. Michael Seibel will finish in 22:15.

Caitlin Pauls clocking 20:53.

Carolyn Corgel winning her age group in 21:13. Trailing Carolyn is Christopher Sadowski who will claim 3rd place in the under 15 age group with his 21:15 clocking.

Ellen Hamm winning her 30-34 age group with a time of 21:25.




Nicole Ludwa wins the 20-24 age group in 21:41.




Barry Sanctina finishes in 23:12.
Philip Halpern and Patrick Smith will follow in 23:14 and 23:16.

Jennifer Schwallie taking 3rd in her age group with a 24:07 clocking.
Robert Lane will finish in 24:09.